Manufacturer and exporters of 5D hot induction pipe bend.
Specialist and qualified engineers team to Manufacturer and exporters of pipe induction bends in the special imported steel material of ASTM Carbon steel, Stainless steel, and chrome-moly alloy steel pipe bends, ASTM A234 WPB, 5D radios steel bend, ASTM A403 Stainless Steel Pipe bends, ASME B16.9 Butt Welding bends, ASME B16.11 Forged Steel Bends, MSS SP-75 WPHY Fittings, ASTM A860 WPHY 42, 52, 60, 65, 70 hot induction bends.
Aditya Steel comparatively best manufacturer of 5D pipe bend, ASME / ASTM SA 234 WPB 5D pipe bend, WPBW 5D pipe bend, WPHY 42 5D pipe bend, WPHY 46 5D pipe bend, WPHY 52 5D pipe bend, WPH 60 5D pipe bend, WPHY 65 & WPHY 70 5D pipe bend, A/SA 234 Gr. WP 1 5D pipe bend, WP 5 5D pipe bend, WP 9 5D pipe bend, WP 11 5D pipe bend, WP 12 5D pipe bend, WP 22 5D pipe bend, WP 91 5D pipe bend, A403 SA / A 774 WP-S 5D pipe bend, WP-W 5D pipe bend, WP-WX 5D pipe bend, 304 5D pipe bend, 304L5D pipe bend, 316 5D pipe bend, 316L 5D pipe bend, 304/304L 5D pipe bend, 304H 5D pipe bend, 316H 5D pipe bend, 316/316L 5D pipe bend, 321 5D pipe bend, 330 5D pipe bend, 347 5D pipe bend, 309/S 5D pipe bend, 310/S 5D pipe bend, 317/L 5D pipe bend, 333 5D pipe bend, 410/S 5D pipe bend, DIN 1.4301 5D pipe bend, DIN1.4306 5D pipe bend, DIN 1.4401 5D pipe bend, DIN 1.4404 5D LR, SR pipe bend exporters in dubai, Middle east, Europe, Japan, Korea Etc.
5D Pipe Bends Description.
O.D. : 38.0 mm – 206.0 mm.
A234 WPB U Bend Size : Seamless 1/2 inch to 24 inch; Welded / ERW : 2 inch to 36 inch.
Available Radius : 2.5D Pipe Bends, 3D Bends, 5D Bends, 10D Bends, 22D Pipe Bends.
Bends Radii : 75 / 100 / 150 / 250 / 300 / 500 / 800 / 1,000 / 1,200 / 1,500 mm.
Types : Welded, Seamless, ERW, Fabricated
Specifications
5D BEND Standards:
ANSI – B 16.9 ASTM A403 – ASME SA403 – 'Standard Specification for Wrought Austenitic Stainless Steel Piping Fittings' API 590-605 ASME B16.9 – 'Factory-Made Wrought Buttwelding Fittings" ASME B16.25 – 'Buttwelding Ends' ASME B16.28 – 'Wrought Steel Buttwelding Short Radius Elbows and Returns' MSS SP-43 – 'Wrought and Fabricated Butt-Welding Fittings for Low Pressure, Corrosion Resistant Applications'
5D BEND Schedule:
Schedule 5S, 10S, 20S, S10, S20, S30, STD, 40S, S40, S60, XS, 80S, S80, S100, S120, S140, S160, XXS and etc.
5D BEND Materials:
Stainless Steel :
Grade: ASME / ASTM SA 234 WPB , WPBW, WPHY 42, WPHY 46, WPHY 52, WPH 60, WPHY 65 & WPHY 70, A/SA 234 Gr. WP 1, WP 5, WP 9, WP 11, WP 12, WP 22, WP 91, A403 SA / A 774 WP-S, WP-W, WP-WX, 304, 304L, 316, 316L, 304/304L, 304H, 316H, 316/316L, 321, 330, 347, 309/S, 310/S, 317/L, 333, 410/S, DIN 1.4301, DIN1.4306, DIN 1.4401, DIN 1.4404
5D BEND Type:
Butt Weld (BW), Dish End
5D BEND Dimension:
ANSI B16.9, ANSI B16.28, MSS-SP-43 Type A, MSS-SP-43 Type B, JIS B2312, JIS B2313, ASME B16.9, ANSI B16.28, ANSI B16.25
Surface Finish on Steel tube mandrel bends
❖ Hairline
❖ Galvanized
❖ Shot blasting
❖ Anti Corrosive
❖ Black Phosphating
Manufacturing Standard for 5D BEND
➤ EN: EN10253-1, EN10253-2
➤ ASME: ANSI B16.9, ANSI B16.28, MSS-SP-43
➤ DIN: DIN2617, DIN2605, DIN2616, DIN2615, DIN28011
55555D BEND Bending Radius of Bend and Elbow
As we talked above,
Steel pipe bend radius: Above 2 times of D, so there are 2D, 2.5D, 3D, 5D, 6D, 7D or 8D pipe bend.
Steel pipe elbow radius: R=1D or R=1.5D or 2D. Below 1.5D is short radius elbow, and more than 1.5D but not over 2D is long radius elbow.
R is radius of curvature; D is (elbow or bend) pipe diameter.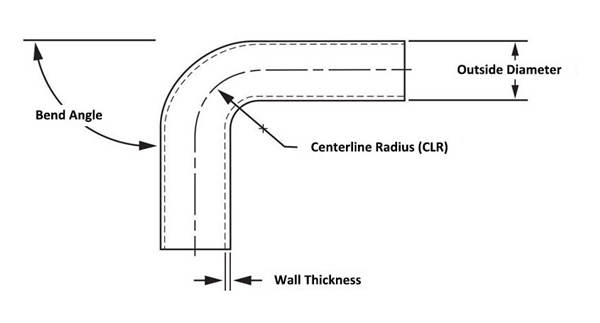 As above picture CLR could be in 1D, 1.5D, 2D, 3D, 5D etc.
Different of manufacturing processes
Bend: Could be bend directly from a finished pipe with cold bending processes, to different degrees.
Elbow: Shall be made according by standard manufacture procedures, with hot finishing or hot bending, to a certain degree, 45°, 90° or 180°.
Cost different
So by the help of simple production process with standard 1.5D or 1D, steel pipe elbow cost is lower than bend. Pipe bend is mostly required with customized radius or degrees so the processes is more complicated than elbow and cost is higher.
Different applications scope
Bend: Compatible with slower liquid and lower pressure.
Elbow: Compatible with high pressure and rapid liquid.
Sometimes elbows must be used in narrow sections, because the radius of curvature of the elbow is small, generally 2D, but the pipe bend could be up to 40D.
Aditya Steel Engg. co. Manufacturer, Stock, Supply and export to :

India, Saudi Arabia, Bangladesh, United States, UAE, Canada, Angola, Argentina, Austria, Azerbaijan, Pakistan, Peru, Chile, Spain, France, United Kingdom, Indonesia, Israel, Iran, Kuwait, Mexico,Malaysia, Nigeria, Serbia, Singapore, Taiwan, Chile , Venezuela, Ecuador, Netherlands, Brazil, Colombia, Ghana, Iran, Denmark, Poland, Australia, Afghanistan, Bahrain, Costa Rica, Egypt, Iraq, Jordan, South Korea, kazakhstan, Sri Lanka, Lithuania, Norway, Oman, Philippines, Poland, Qatar, Russia, Vietnam, South Africa, Nigeria Mexico, Turkey, Hungary, Algeria, Belarus, Belgium, Bhutan, Bolivia, Bulgaria,Croatia, Czech Republic, Estonia, Finland,Greece, Italy, Japan, Libya, Romania, Thailand, Trinidad, Tobago,Tunisia, Ukraine, Yemen, Hong Kong, Gabon, China, Portugal, Switzerland, New Zealand, Sweden, Slovakia, Kenya, Lebanon, Morocco, Mongolia